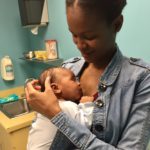 I have been really delinquent with creating new posts for the blog because I am still so very sleep deprived! My precious 10 week old son is still not yet on a proper/regular sleeping schedule, so I am lucky if I get 2 continuous hours of sleep.
Anyway, a reader of the blog sent me an email with the above title. So, in lieu of a regular post on a medical topic, I have decided to post that message along with my response. I changed the reader's name for the sake of privacy.
Here goes…
_____________________________________________________________________________________________________
Hi there!
I just subscribed to your page, and I saw the post about your new baby. Congratulations! I am currently in medical school (very interested in ID, which is how I found ya), and I'm wondering how you're managing being both a mother and a physician. I'd like to have a family someday, and I'm wondering when the best time is (if there is one) to take that step. Several people have recommended fourth year of med school, but I'd love to know your opinion. If you could post about your experience or maybe offer some advice on the subject, I would appreciate it 🙂
Thank you!
Molly*
____________________________________________________________________________________________________
My response…
Hi Molly,
Thank you for your message. I would say that there is no good time to have a child per say. But, if there is a time that you would be able to afford to take at least 3 months off for maternity leave, that would be best. I am finishing up my 3 months maternity leave so I have not been back to work yet, but I sort of dread going back because my baby has not yet fallen into a good rhythm of sleep etc.
Fortunately for me, my work situation is one where I can plan my own schedule, as opposed to having a manager watching over me like a hawk to see that I am at work for 8 o'clock on the dot, and present for no less than 8 hours, or that I see no less than a certain number of patients, etc. I also live only about 8 minutes away from work so I will be able to pop home should any issues arise. With this flexibility I may manage a little better than average.
Ideally though, I wish I could take off at least 6 months for maternity leave (if not a year!). I don't know how some women do it just taking 4 or 6 weeks leave. Some docs feel guilty about taking the time, but I have been completely guilt free, because to me, nothing is more important than family. Patients can always find another doctor, but your child can't find another mother. Someone told me they were sure I would be anxious to come back, because I would miss the routine of work, but that has not happened to me at all. In fact, if I could, I would switch to working part time.
So, again, there is no best time, but each person with their partner has to decide what will work best for them.
When I go back to work next month, I will see how I manage being apart from my baby for long periods, and I will probably do a post on that, so look out for it.
Thank you for surbscribing to my blog and all the best with your studies! Infectious Diseases is an amazing, exciting specialty which will continue to be increasingly vital as the number of immunocompromised people increases (aging, cancer patients, etc). We might not make as much money as gastroenterologists and cardiologists for example, but the satisfaction is very much there. We certainly need more people in the field so hopefully you don't change your mind.
Best,
Amina
_______________________________________________________________________________________________________
In this fast paced world we now live in, I really wonder how other mothers with young babies are managing. How often do mothers take at least 3 months off? Do you think we should get 1 year off, like in many European countries? Maybe some mothers are actually anxious to get back to work. Please share your thoughts and experiences in the comments below!
*name changed for privacy