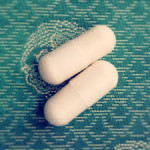 Probiotic supplement use is becoming increasingly popular, as alluded to in the last 3 posts of the blog (see here, here, and here). Compared to a decade ago, probiotics are now prescribed routinely in many hospitals, particularly to patients taking antibiotics. There are numerous brands available on the shelves of most pharmacies and in many supermarkets. As with any product with numerous options, choosing which one to buy can be quite a challenge.
Below, I share with you 9 factors to consider when choosing a probiotic supplement.
1 – The label should state the scientific name of each probiotic strain contained in the pills. Some probiotic strains with proven health benefits include Lactobacillus acidophilus, Bifidobacterium infantis, and Saccharomyces boulardii.
2 – The label should state that the contents are live cultures, and should guarantee the amount present in each pill up until the expiration date. Some supplements guarantee the amount of cultures at the time of manufacture, which is not good enough. Others mention the amount at the time of manufacture, then guarantee a lower amount by the expiratory date. In some cases, this amount is significantly less, but at least they are making a guarantee of how much live cultures is contained in each pill up until the expiratory date.
3 – The number of live bacteria (also called live cells, colony forming units (CFUs), or live cultures) of each probiotic strain should be stated. For example, 10 billion live bacteria, or 10 billion CFUs of Lactobacillus acidophilus.
4 – A combination of probiotic strains appears to be better, at least 3 different strains, if not more.
5 – In addition to multiple strains, larger amounts of live cultures may be more beneficial as well, more than 10 billion.
6 – For prevention or treatment of antibiotic associated diarrhea, consider a probiotic supplement containing Saccharomyces boulardii and Lactobacillus species such as Lactobacillus rhamnosus GG and Lactobacillus casei DN-114 001.
7 – For prevention Clostridium difficile diarrhea, consider a probiotic supplement with Lactobacillus acidophilus and Bifidobacterium bifidum.
8 – For prevention of infectious diarrhea the most evidence exists for Lactobacillus rhamnosus and Lactobacillus acidophilus.
9 – Probiotics should be kept cool (if the pills are in a bag left in the car during the summer, they will likely get inactivated. Additionally, for persons living in the tropics, purchase probiotic supplements from a store with air conditioning to ensure that it is not exposed to temperatures above 75 degrees Fahrenheit. Alternatively, the store may keep probiotics in the refrigerator which is even better.
Unfortunately, because the formulation of many probiotic supplements on sale in the drug stores was not subjected to rigorous testing, we really do not know how much of the live active cultures reach the intestines, where they are needed to be of benefit. How much gets inactivated by the stomach acid?
There was a study conducted where 3 doses of Bifidobacterium infantis [1 million, 100 million, and 10 billion colony forming units (CFUs)] were given to patients with irritable bowel syndrome. Instead of the largest dose, it was the dose of 100 million CFUs that was effective for relieving pain and discomfort at 4 weeks. When they looked into the possible reasons why, they found that the 10 billion CFU dose transformed itself into a pellet that resisted dissolution. However, when that large dose of probiotic was added to a milk based drink, it worked just fine. This indicates that, unless a specific brand/formulation is tested, we really do not know how much, if any benefit, would be derived from it.
From a casual walk through of my local drugstore, there were at least 10 different brands of probiotic supplements on the shelves. They all had different strains of probiotics in different amounts. Not all guaranteed the presence of live cultures up until the time of product expiration. The probiotic brands that seemed reliable based on the package labels include Culturelle and Florastor. Another brand that I found quite appealing was Ultimate Flora. It had 10 different probiotic strains (7 Lactobacillus and 3 Bifidobacterium species) and a total of 30 billion live cultures per capsule, guaranteed at the time of consumption, prior to the expiration date.
Whole Foods Market, on the other hand, had a very impressive selection of probiotic supplements. Most of them were kept in the refrigerator (although some stated they did not need to be). Many of them had over 50 billion live cells, and I even saw a brand with 400 billion live cells. Most of them had more than 10 different probiotic strains, with some containing up to 40 different probiotic strains. Whole Foods Market also had several types of synbiotics (a combination of probiotics and prebiotics; prebiotics are indigestible substances which promote the growth of probiotics).
In conclusion…
The probiotic supplement industry is a large and quickly growing one. Unfortunately it is unregulated, therefore consumers cannot always be completely sure if they are getting what the labels suggest. Strictly speaking, it is not possible to state a general dose that is needed for probiotics, since the dose has to be based on human studies to show a health benefit. If you are considering taking a probiotic supplement, first ask your physician if it is safe for you to do so, and use some of the recommendations above to choose a 'better' brand.
Disclaimer: I have no financial relationship with any of the brands mentioned in this post.