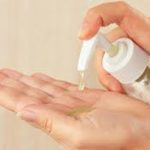 Ok. So I'm a bit embarrassed to write this post as I will probably come across as extremely weird, or too obsessive. Anyway, here goes…
I remember when I was a child, my mother used to say that I was scornful. As an adult, I now realize that I was probably just a young germaphobe. Over the years, this has become more pronounced (although I know people who are worst than me still), maybe because I see firsthand the profound effects of infectious diseases.
Even though I am a germaphobe, at the same time, I now realize more than ever, that exposure to germs is only one factor in determining whether or not a person comes down with an infection. Another factor which may be even more important, is whether or not the exposed person is healthy at baseline, with a strong immune system.
Without further ado, here are 9 weird things I do as a germaphobe:
1. I don't touch doorknobs/handles if possible. I use my body/shoulder, to push open a door. If a door has a push down handle, I use my elbow to push down on it, at the same time pushing the door open with my shoulder.
2. If I have to turn a doorknob, I try to sanitize my hands right afterwards (I usually have hand sanitizer on me).
3. If a door with a handle has to be pulled outwards to be opened, I hold the outermost end of the handle to open the door. My rationale is that this is the least touched part of the handle.
4. If door has C-shaped handle, I pull from the lower end, for the same reason as in #3.
5. I press elevator buttons with my knuckle, as, if I happen to touch my face afterwards (before I am able to sanitize), it will likely be with my fingertip.
6. This might be one of the most bizarre…If I am about to pass next to someone who just coughed or sneezed, I take a deep breath before reaching them, then breathe out slowly but a little forcefully as I pass them, in an effort to not inhale germs from them. I know…very weird!😳
7. I don't hold unto side rails. (That may change as I get older and need help stabilizing my balance.)
8. In trains, rather hand hold onto bars with my hand, I hook my arm/forearm around a pole to stabilize myself.
9. I use tissue to hold the lever, whenever I have to flush public toilets and turn on/off the faucets.
There you have it – some of my strange habits when away from home. Most of what I do is geared towards not contaminating my hands from high touch surfaces. Contaminated hands touching the eyes, nose and mouth is how we acquire a lot of infections.
I'm sure there are strange things other people do to prevent infection. Just recently I heard of someone cleaning out their baby daughter's nostrils and wiping their face, every time they got back home from a day out. I never thought of doing that and don't plan to do it with my new baby.
I remember I had an attending physician during my training who never shook patients' hands. Whenever one would motion to shake his hand, he would tell them he would do a fist bump instead.
Do you have any strange or quirky things you do in an attempt to try to prevent infections? Please share below!