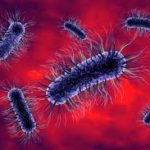 Early followers of The Infectious Doctor will find today's post familiar. It is adapted from an earlier post, published last September.
A patient asked me: "Doc, my husband has Salmonella and I don't. How come? We've been eating the same thing!" Below are 4 possible explanations. These reasons also apply to other causes of infectious diarrhea.
-1. Her husband's part of the meal/meat/eggs was undercooked. Salmonella does not tolerate high heat, which is why proper cooking kills it. Eating partially cooked foods such as rare steak, incompletely cooked meat burgers, or runny egg yolks, increases the risk of infection.
-2. Her husband's part of the salad was cross contaminated with infected meat. Sometimes food handling practices are suboptimal with salads and raw meats being prepared on the same surface. The contaminated salad is then served raw, while the meat goes on to be cooked with resultant killing of the bacteria, rendering it safe (paradoxically).
-3. Her husband's immune system is weaker. Both husband and wife may have diabetes. However her's may be perfectly controlled, and her husband's way out of control. Diabetes is a condition that may weaken the immune system. The more uncontrolled the diabetes, the weaker the immune system, and higher the chance for infections in general.
-4. Her husband takes medicine to decrease acid production in his stomach and she does not. Did you know that among the purposes of the acid in the stomach, one is to kill germs that are ingested? Yes! The acid in the stomach protects us from infection! Many people are on stomach acid lowering medication such as Pepsid and Prilosec. They get on the medicine for an acute bout of reflux (heartburn) or gastritis (stomach irritation) and never come off! So possibly the wife's food was also contaminated with salmonella but her stomach acid killed the germs; the husband may have been on Prilosec for years, greatly reducing the acidity of his stomach so that the salmonella had a favorable environment to survive and multiply.
So there you have it…4 possible reasons why one person in a household may get infected with salmonella (or some other food-borne pathogen), and another not.
You can decrease your chance of infection by avoidance of raw meats and poultry, generous washing of raw fruits and vegetables under running water, proper storage of food (refrigeration when indicated), and optimizing your overall health and immune status.
To learn more about salmonella infections, see the original post here.