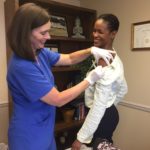 When I was living in the Caribbean the influenza vaccine was not a part of routine healthcare. Also, I don't remember influenza infections ever being a (big) problem.
It's probably because our homes in the tropics are more open (open windows and doors) so viruses and other airborne germs get diluted by the breezes flowing in and out, rather than concentrate in enclosed rooms where people are.
Additionally, because it's warm in the tropics, the lining of the nostrils doesn't get as dry and irritated (like in cold climates) therefore it's not as easy for viruses to penetrate and cause infection.
I've been taking the influenza vaccine every year since I've been back in the US. I've done this, knowing that the influenza vaccine is not the most effective of vaccines. Average effectiveness of the flu vaccine ranges from 30-70% (less effective if immune system is weak, and in elderly) compared to 97+% for vaccines such as the one against measles.
RELATED: The case of the pregnant woman who succumbed to influenza
The influenza vaccination season starts in around September, so I, like many others, am already vaccinated by the time the flu season ramps up and the effectiveness of the vaccine is realized.
This season is one of those where the effectiveness of the vaccine is rather low. However, I don't regret getting it, and would get it again even if I knew it was not as effective as desired. (I still recommend vaccination to my patients who haven't been vaccinated yet.)
Why would I get a suboptimally effective influenza vaccine? 4 reasons:
1. I cannot afford to get sick. I have too much going on, to be able to spare 2 weeks to be in bed sick. I've had influenza at least twice that I know, and it made me very ill for the first week, and unwell for the second week but I had to go back to work after the first week, as difficult as it was.
2. If I get infected, it will probably be milder. I know that a case of influenza infection in a person who was vaccinated tends to be milder in terms of symptoms, and the duration of illness tends to be shorter. I will take any benefit I can get. Let me admit however, that not all influenza vaccinated people who subsequently get the flu have a mild case. I've seen cases ending in death.
3. To protect my infant son. I now have a baby at home and I need to do the best I can to avoid bringing germs home to him.
4. The vaccine won't harm me. The vaccine is extremely safe. I have nothing to loose in getting the vaccine, but instead, everything to gain.
RELATED: 8 reasons to get the flushot this and every flu season
Now I admit that I'd probably be singing a different tune if I didn't have a job where me not going to work, had a negative impact on many people. Or a job where I literally come into contact with people infected with the flu everyday (you'd be amazed at how many patients in the hospital who know they have the flu, cough into your face).
So this is my choice. In saying all this, I agree that it's a personal choice to get the influenza vaccine and I never get upset with someone for not wanting to get it.
Everyone should discuss vaccination with their doctor, and consider their individual risks for infection when making their decision.