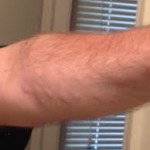 As an infectious diseases specialist, the type medication that I prescribe most often is antibiotics. Unfortunately, of all the medications that patients report allergies to, antibiotics in general seem to be the most common, but participularly penicillin and penicillin related types. However, less than 10% of people have antibiotic allergies and of these, only about 0.05% have a life threatening allergic reaction (anaphylaxis). One of the banes of my existence is false reports of allergies. Some of the worst ones I've come accross are:
– It made me feel bad. Just that. No explanation or clarification of specific symptoms.
– It made me have nausea, vomiting, and/or diarrhea. These are the commonest potential side effects of all medications and do not represent an actual allergy.
– It caused tingling in my hands.
– It gave me insomnia. (Huh?! How could that be an allergy?!)
– I don't know what happens. My mother told me it happened as a baby and I was told never to take it again. This is one of the most frustrating. Babies are so sensitive that one can only imagine that they could experience side effects from any medication. Additionally, for persons older than 50-60 years, during their childhood, some medications were less pure and some reactions they experienced were from additives present in the medicine rather than the actual drug itself.
– I didn't like how it made me feel so I just say I'm allergic to it so they don't give me again. (This one makes me want to screem!)
– My mother and sister are allergic to it so I say I'm allergic to it as well since the allergy probably runs in our family. While there is a tendency of members of a family to be "allergic" in general (with several members having allergic conditions such as asthma and eczema for example), the condition of a medication allergy is not specifically hereditary and so if your sister had an allergy to a drug, you can probably take it. Further more, your sister's "allergy" may have been nothing more than a side effect.
True allergic reactions occur when the body recognizes a drug as foreign and in response produces chemicals such as histamine, resulting in a cascade of symptoms including swelling and hives of the skin, swelling of the airways and throat with wheezing and difficulty breathing, and eventually collapse of the circulatory system with very low blood pressure. An exaggerated allergic responses is called anaphylaxis and can result in death.
None of the above situations I listed represents a true allergic reaction but instead signify side effects or adverse effects of the medication. All medicines can potentially have side effects, which vary by individual. We never know who will react, and how, to a certain medication.
It is important to be clear about possible allergies as the impact of an allergy report is more serious than you may think. For example, with penicillin, probably the most commonly reported antibiotic allergy, if that drug is unavailable as a treatment option, it precludes use of numerous other related antibiotics. The alternative antibiotics potentially have more side effects and sometimes can only be taken by injection form, making treatment more complicated and expensive. Exposure to more powerful antibiotics is associated with increased presence of multiple drug resistant bacteria. One can only imagine that infection with such multidrug resistant bacteria causes even more complexed and expensive treatment.
So please be mindful of what you report as a medication allergy. Often times, for intolerance or side effects, we can give another medication to counteract the side effect and make it more tolerable. Of course that means taking yet another drug but doing so temporarily with a cured infection in the end is acceptable by most.
Sometimes it's really not clear whether or not someone has an allergy. In those cases, skin testing can be done to determine the presence of a reaction. There are times when a person is truly allergic but for the type of infection they are suffering, there is no alternative antibiotic. In these cases, an allergy specialist has to be called in to assist with desensitizing the patient against the culprit antibiotic. This involves a procedure to weaken and eventually overcome the patients sensitivity to the antibiotic. This is usually done under very close monitoring, often in the ICU.
My message to you here is that reporting an allergy has major implications for medical management and should not be done without justification.