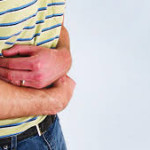 Clostridium difficile, or C. diff. for short, is a monster which you never want to have to deal with. Ever. Not as a patient, and really, not as a doctor. C. diff. is a bacteria that is actually present in the environment (particularly the soil); we can get contaminated with it and it does not necessarily cause problems. About 3% of healthy adults have C. diff. dormant in their body. It hangs out in the bowels (large intestines) in balance with all the other billions of germs, waiting like a thief in the night for the right opportunity to pounce.
That opportunity usually comes after a patient takes a course of antibiotics. The antibiotic, in addition to killing the bad germ it was meant for, also kills many of the good germs in the bowels. The balance is therefore thrown off, and so the C. diff. can "overgrow" because there is not much competition left for the available nutrients (like I explained with yeast in this post). The thing with C. diff. is that it produces a toxin which is literally toxic to the bowels, causing severe irritation and inflammation with diarrhea. If it is a particularly harsh strain of C. diff. (like we've been seeing recently) there is heavy toxin production and deathly inflammation of the bowel which can become so swollen and dilated that it stops working properly. The diarrhea has lots of mucous and sometimes even blood. The patient gets a swollen, painful abdomen, poor appetite, fever and is rather sick overall. With severe diarrhea and poor appetite, the patient gets dehydrated and can get malfunctioning kidneys as a result. The worst cases of C. diff. are characterized by bowels that stop working, kidney failure failure requiring dialysis, and septic shock (body shuts down) with the patient needing to be on the respirator.
I've seen one person die of severe C. diff. He had AIDS (acquired immune deficiency syndrome) so it was a double whammy. That was during my residency in NYC. It was bad. Because of a whole host of problems with him, he was not strong enough for surgery, so his infected large bowel could not be removed in an attempt to try to save him.
The first treatment of C. diff. infection is to stop antibiotics. As you can imagine, this is not always possible. Fortunately, there are a few antibiotics that target the C. diff. germ specifically, although C. diff. seems to be getting smarter and smarter, finding ways to avoid being targeted by antibiotics. The way I like to describe it, is that there is a fight for survival, and just as how we humans want to survive, the germs also want to survive and will do what ever they can to outsmart us. They find ways to change their structure so that the antibiotics are not effective against them anymore.
Sometimes C. diff. diarrhea returns soon after finishing treatment, and the treatment course has to be repeated. On other occasions, C. diff. treatment has to be given over many weeks, with the dose gradually reduced over this time. The reason for slowly reducing the dosage is in the hope that the C. diff. germ won't notice and come rushing back.
Nowadays, the worst C. diff. cases have a (not so) new treatment option, one that my patient with AIDS did not have 7 years ago. This is a fecal (stool) transplant. Yes! Feces are transplanted into the bowel of an infected patient to replenish their supply of good germs, and put the C. diff. in the minority or eliminate it altogether. As gross as this sounds, I've had patients with C. diff. infection so severe, that they literally begged for fecal transplant, recognizing that it would give them the strongest chance for a cure. I think one has to experience a severe bout of C. diff. to appreciate this feeling. I had one patient who was literally suicidal from their severe C. diff. infection. This patient got a stool transplant which worked fabulously. It was a pleasure to see the amazing recovery.
Unfortunately, there will always be some cases that don't survive the ordeal even after all aggressive treatments are attempted. Elderly, frail patients have particularly poor prognosis with C. diff.
I think stool transplant will become an increasingly common procedure as the population continues to age, people have more medical problems, and people are put on course after course of antibiotics. Hopefully we will have better medications to target C. diff. in the future. The most I can suggest for now, is to be wary of taking excessive amounts of antibiotics.