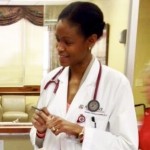 A large part of why I love my occupation so much is the meaningful interactions I get to have with real people, especially the ones I have the privilege of calling my patients. I have learned so many random, non-medical things from my patients over the years, it's incredible. I have also been touched by some of the most heart warming stories as well. As hectic as things get in the hospital sometimes, it pays to really listen to patients. Many of their stories keep you going through the madness. In my final blog post for 2015, I share two touching stories that will hopefully given you a bit of joy, going into the holiday season.
The 90 year old who found love
A very pleasant man was admitted to the hospital for management of a bedsore which developed over the preceding few months. He was not a nursing home resident, did not have dementia, and never had a stroke, so I was slightly surprised that he had a bedsore. When I asked how he got the bedsore he said because he sat reading all the time. He was quite thin (he admitted he did not eat very much), so there were pressure points from his protruding bones. In chatting with him, I found out that he lived at home with his wife. Many of the elderly patients I come across have had the fortune of celebrating golden wedding anniversaries so I asked how long had he been married for. I got the shock of my life when his answer was 4 years! Four years?! How is that? I asked. He said he was put in a nursing home after his first wife of 46 years died. There, he met a lovely woman who had been there for almost a year. She went in for rehab after suffering a stroke. He said they got along so well; essentially they fell in love. He asked her to marry him and together they moved out of the nursing home, into their own home and have been happily married for 4 years and counting. I asked him – how did you pick her out, of all the other women in the nursing home? He answered – how did you pick your husband, of all the other men out there? I had nothing to say to that. Because his wife had to depend on someone to give her a ride for the 90 mile journey, she was not able to visit her husband often so I never got a chance to meet her, unfortunately. This story warmed my heart, because it reminded me that we are never too old to fall in love.
The elderly woman who found her long lost child
This is probably the most heart warming story of my medical career to date. I was taking care of an elderly woman with a bad infection. She was recovering nicely so I was chit-chatting with her one morning. She had some photos of family on her bedside table so I asked if the two people in one of the photos were her children. She said "if you have time I'll tell you a story." I was a little tight on time but decided to hear it. Then she told me how her child came to her one day a few months prior and said "Mother, I got a phone call, but a good phone call. Does the date …… ring a bell to you?" This was a date from about 60 years before. The patient said immediately she knew what it was about. On that date, she gave birth to a healthy baby but had to give it up due to "circumstances." The doctor knew a couple who wanted a child and as soon as it was born they took it from her. She only knew the gender of the child but never saw it. She got married and less than 2 years after having the first child, she gave birth to another baby. That was the last child she had. That child grew up never knowing about the sibling given up for adoption.
It turns out, the adopted child had been looking for it's birthmother for decades, having gotten the name from the adopted parents. As luck would have it, the maiden name of the birthmother turned up on an internet search, listed in an obituary! It was the sibling that was contacted first. They spoke for hours on that first call. After the birthmother was informed, a meeting was set up and they were reunited.
The mother (my patient) told me she had never stopped thinking about this long lost child and when they were finally reunited, she said the child turned out to be everything she imagined. This child, well…now a grown adult, thanked her for choosing life rather than taking the easy way out. It was the sweetest story ever.
For the upcoming holidays, I wish everyone health, happiness and lots of love. The Infectious Doctor will be taking a break for the holidays. Thank you all for supporting this blog since it's launch on September 1, 2015. I invite you all to check back in January, for more informative posts about infectious diseases.